Lufft Opus 20E Datalogger for External Sensors

Lufft offers a variety of models with internal or external sensors for recording humidity, temperature, pressure and CO2. For climate monitoring and recording in buildings, air conditioning units, laboratory, cleanroom, storerooms and museums, alarm indication (current or historical since the last data transmission), conversion of the display from %RH to absolute humidity or dew point with SmartGraph professional software.
With up to 10 external channels/sensors per OPUS20E.
The Lufft OPUS20E offers the highest flexibility and is excellent value for money. It allows the connection of up to 4 external temperature and relative humidity sensors, as well as 2 further analog sensors. Intelligent BUS sensors can be integrated via the OPUS20E's RS485 interface (e.g. particle counter).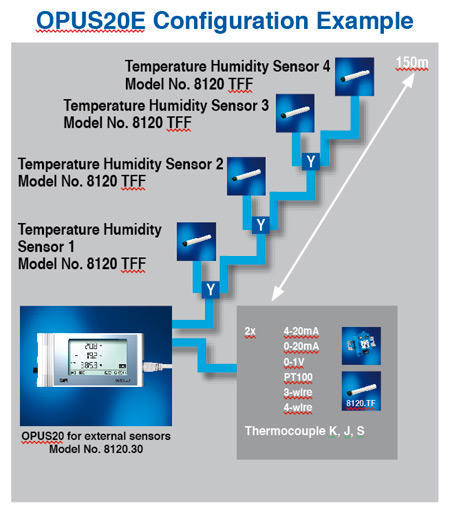 Air flow and differential pressure sensors are typically connected to the OPUS20E via analog inputs as opposed to the maximum of 4 external temperature or humidity sensors that can be integrated via a digital BUS protocol. In connection with its LAN capabilities, the OPUS20E is able to realize universal measurement networks in real time. For standard applications the Smart-Graph 3 comes into play, and in order to fulfill the 21 CFR 11 guidelines the well established and proven MCPS7 software is available.
Specifications and additional product information
Lufft OPUS 20E for External Sensors
8120.30
OPUS 20E for External Sensors POE
8120.31
Dimensions
6½" x 3″ x 1¼" (180mm x 78mm x 32mm)
Measuring interval
10/30s, 1/10/12/15/30min, 1/3/6/12/24h
Storage rate
1/10/12/15/30min, 1/3/6/12/24h
Construction
Plastic housing
Operating life (battery)
<1 year
Data storage
16 MB, 3,200,000 measured values
LC-Display
3½" x 2½" (90 x 64mm)
Weight
8 oz. (250g)
Included in delivery
PC-Windows Software SmartGraph 3 for graphical and numerical representation of measured values / Instructions/ data cable/ battery/ WAGO connector / DIN rail bracket
Interface
USB, LAN
bus interface
RS485
Power supply
4 x LR6 AA Mignon, USB, (POE opt.)
Operating temperature
-4 to 144°F (-20…50°C)
Input voltage 0-1V
Measurement range
0….1V
Accuracy
±200uV ±0.1% of measured value
Resolution
<500uV
Current measurement
Measurement range
2-wires: 4 … 20mA,
3-wires: 0…20mA
Accuracy
±4uA ±0.1% of measured value
Resolution
<5uA
Resistance
approx. 50 Ohm
Thermocouple K
Measurement range
-200°C…1200°C
Accuracy
°°± 1°C ± 0.5% of measured value at -200°C … 0°C
± 1°C ± 0.2% of measured value at 0°C… 1200°C
Resolution
< 0.2°C