Ohaus VX32XW5000L – VX Floor Scale, 5,000lb Capacity / 1lb Readability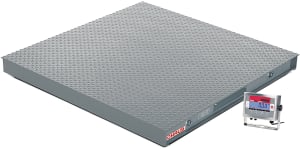 VX Floor Scale
Legal for trade
5,000lb capacity
1lb default readability
1lb certified readability
4 x 4 foot platform size
OHAUS VX Series of floor scales are designed to minimize distortion under heavy loads and ensure years of dependable performance. Complete with a durable T32XW washdown indicator, the VX Series displays results in lb. or kg, and includes a counting mode, as well as geographical gravity correction for quick adjustment to local conditions.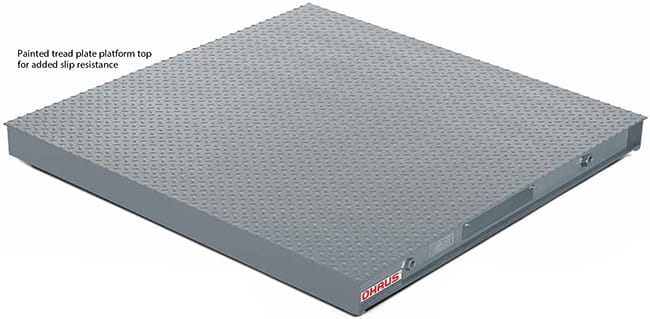 VX Series Floor Scales Include The Durable T32XW Indicator
T32XW Features:
Large 1″ high digit backlit LCD display quickly displays results in a choice of either lb, or kg, as well as oz, lb:oz or g. lb:oz not available in NTEP certified operation. The power-on unit is selectable, and either one or more units can be turned off for easier use.
Includes Counting Mode with a minimum Average Piece Weight of 1d, selectable sample sizes, automatic retention of last sample size used and Average Piece Weight. For installations where Counting Mode is not required, the parts counting software can be selected off.
Built-in bidirectional RS232 interface for printing or connection to PC. Printing intervals can be set to manual (using Print key), continuous, on stable weight, or an interval between 1 second and 60 minutes.
Geographical gravity correction software allows quick adjustment of calibration to local conditions without need for recalibration of the VX Floor Scale. All VX Floor Scales are factory calibrated in the U.S. and must be set to match local gravity situation.
Durable membrane switch keypad with dedicated Print, Tare and Function keys for quick and easy operation
The T32XW can be wall or table mounted using the included wall mount bracket for full tilt adjustment of the indicator.
Software lockouts of menu operations for setup, readout, mode, unit and print menu options. In NTEP certified operation, certain menu options are automatically locked-out.